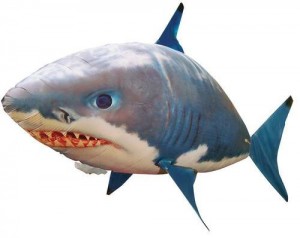 In our desire to get that special Christmas gift for our aquarium enthusiast don't want to make the mistake purchasing a live fish or aquarium decoration.  It's important to remember that aquariums are sensitive ecosystems and we don't want to upset the balance.
Instead, get them The Flying Shark.  Ran across this fun inflatable remote-controlled shark that swims through the air.
In the spirit of disclosure, we don't own one so can't vouch for it's fun or function.  We just thought it was fun idea.
Merry Christmas